Charlotte Area Tree Removal
When Charlotte area homeowners need trees safely and professionally cut down, they turn to Arborscapes.
"What we try to do is work with the client as much as possible," says Nathan Morrison, one of the founders of Arborscapes, and a certified Master Arborist himself. "If we're going to remove a tree we always try to give clients as many options as possible."
Morrison said there are many factors that go into how a tree can be successfully removed, including access to the tree, surrounding trees and property lines. The size of the equipment needed for the job is another important factor. With Arborscapes incredible arsenal of equipment, no job is too big or too small.
Safety trumps everything else when it comes to tree removal. For instance, if there are power lines near the tree that cannot be shut down this could pose issues as well because the bucket trucks may need to move larger branches away from those lines before bringing them down safely on the other side. Neighboring properties and fences are also often a factor in getting trees down carefully.
Protecting homeowners' pocketbooks is also an important aspect of tree service. For that reason, unlike many competitors in the area, Arborscapes is fully certified and insured. Arborscapes manages the entire process from the ground up to ensure everything is handled properly. Our team is regularly trained and tested on safety procedures at every level.
The best way homeowners can determine if their trees should be cut down or handled in another way is to call and ask for a consultation. While winter can be a good chance to see the structure of trees and potential dangers, a certified arborist can make the best recommendation on what parts (if any) need to be removed.
"That's the only real way we can go about it," Nathan said. "There's no other way to give them an accurate price other than coming out and look at what they've got. Otherwise a job that might be quoted at one price can quickly balloon into unexpected costs because it wasn't surveyed properly."
Leave It Better Than We Found It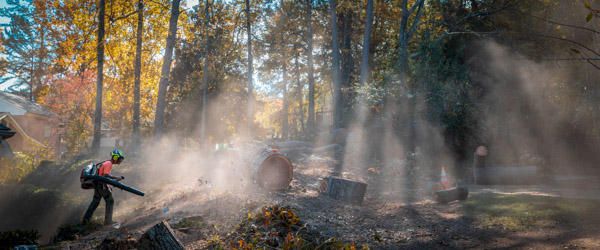 Arborscapes provides several options in addition to removal of trees including: wood chipping services, traditional removal with large equipment and bucket trucks, aerial removals using cranes and grapplesaws to remove the tree in pieces, stump grinding, tree trimming and fertilization. Homeowners are often pleasantly surprised at how well we clean up behind ourselves.
For Morrison, tree services are not just about removal but also preserving nature. Arborscapes works closely with Carolina Urban Lumber to recycle large pieces in order to use them for other things like custom furniture or pieces of art. And when possible, our plant health care specialists can help nurture unhealthy trees back to good standing. Sometimes pruning, fertilization or pest and disease control can be an alternative to removal and allow for the preservation of the tree. This approach often ends up costing less than complete removal.
Arborscapes serves both residential and commercial customers in Mecklenburg and surrounding areas; call today at (704) 525-7148 or fill out the form here for more information:
---