Charlotte's Tree Permitting Requirements for Private Tree Removal
Our beautiful city is known far and wide for its treescape, a canopy of green that graces the fast-growing urban landscape. A new tree ordinance aims to keep it that way. Let's walk through the policy and see how Arborscapes can help you navigate it.
The theme here is to preserve what the city calls heritage trees – those spectacularly large, old trees we all admire as we drive, walk and bicycle past them. Heritage trees are defined as any tree 30 inches or more in diameter as measured 4½ feet from its base. Basically chest-high.
A crucial part of this requirement that you get a permit before taking down a heritage tree is that it applies to private property. A property owner needs a permit from the city to remove a heritage tree – again, one that is 30 inches or more in diameter as measured 4½ feet up the trunk. The exceptions are diseased, damaged or distressed trees – as confirmed by a certified arborist and then verified by the city.
So let's say you are tired of the time, labor and cost involved in maintaining a heritage tree. Or you are afraid of a tree toppling over in a storm. Or you want to remove one (or more) to put in a swimming pool or add on to your home. Or you own commercial property and need to make way for new construction.
Your first step is to fill out a Land Development Services Permit For Tree Work form. How's that for a government-created name?
A permit will (in general) be granted if the tree is sufficiently diseased, injured, dead, in danger of falling or creates unsafe sight distance. No permit is required if the tree is dead.
Now here's where Arborscapes can help you. Our arborists will come out and do a tree risk assessment. It takes 30 to 45 minutes in most cases. We will tell you if your tree is eligible for removal. Then to save you the pain of having to fill out the form, get it through city channels and get your permit, we will handle the process for you. The fee is minimal compared to the time and hassle we will save you.
In other words, we'll take this headache off your hands.
Arborscapes will also speed up the time it takes to get your permit, since we have experience navigating the process. Once you have your permit, we, of course, can handle the tree removal.
There is a lot more to the policy. That's why it makes sense to let us handle not just the tree work but the work leading up to it. Everyone deserves to come out of this a winner. You the property owner who wants a heritage tree removed for all the right reasons. And a city that wants to protect one of its most precious assets.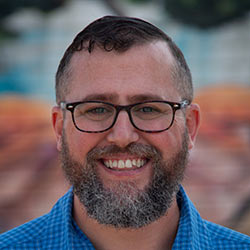 Chris is a Board Certified Master Arborist, Tree Risk Assessment Qualified, a North Carolina Licensed Landscape Contractor, and a member of the American Society of Consulting Arborists. He has has 20+ years of experience in the industry, and currently serves as Vice President of the Southern Chapter of the ISA.