Cedar Grove Cemetery Revitalization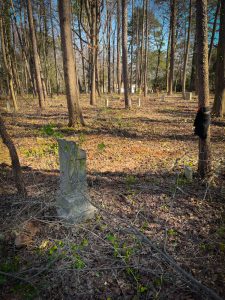 Here at Arborscapes, we are proud to have joined an effort to right a wrong, may all who are buried at Cedar Grove Cemetery rest in peace.
The cemetery on Hildebrand Street in west Charlotte is the final resting place for an untold number of African Americans. The last burial was in the 1990s. Privately owned, with the last known owner passing away in 1972, it has fallen into disrepair. Trees, brush and bramble grow wild, covering gravestones, including one that simply says "MOTHER." Trash is everywhere – beer bottles, food wrappers, torn-up easy chairs, even toilet paper. There's evidence of the homeless staying there. Think if your loved one was buried here. In some cases, you can't find the gravesite to place flowers upon it.
Matt Davenport, our Safety Coordinator/Certified Arborist, heard a story one morning on WFAE public radio lamenting the cemetery's condition. "It reached out and grabbed me," he says. That's all it took for Arborscapes to spring into action. On Saturday, Feb. 12, nine of our workers and three tree trucks descended on Cedar Grove and spent eight solid hours, as Matt says, "Giving back." They trimmed trees, cleared brush and did what Arborscapes does best – in this case, help bring beauty back to a sacred space.
"The point of this wasn't 'Look at us.'" Matt says. "It was providing a public service."
Restoring Cedar Grove Cemetery has become a community crusade. A website – www.savecedargrove.org – shares information and a place for volunteers to sign up to help. At Arborscapes, it was a pleasure and privilege to do our part.
A native of Centerville, Ohio, Nathan attended The Ohio State University, where he earned a BS degree in Urban Forestry. He's been an ISA Certified Arborist since 1997 – the year he learned how to climb trees during an internship in Varese, Italy.